What is an ADU?
You've seen it in MLS Property Descriptions or heard it in conversation — but what is an ADU?

ADU stands for Accessory Dwelling Units which is a big phrase for a small "house". As the Californians for Homeownership, defines it: "An accessory dwelling units (ADU) or 'in-law unit' is a housing unit built in or on the same lot as an existing single-family home, or through the conversion of an accessory structure like a garage."
4 Reasons for ADU's Popularity
What are 4 reasons leading to the popularity of ADUs?
1. Multigenerational Living – Increasingly American households are grandparents, parents, and children living in the same house. ADUs give privacy and space for the different generations. With the high cost of senior homes and health factors, many homeowners want their parents on the same property as them.

2. Office Space – Work from home didn't go away and for small business owners, freelancers, and remote workers, having a separate location to go to work is a huge benefit to creating separation between your home and work.

3. Income Potential – Many homeowners choose to rent out their ADUs or back houses whether long term or on a short term basis with platforms like AirBnb (subject to local regulations on short term rentals).

4. Guests – Out of town guests have a welcoming place to stay without being in the main house. Whether it is friends or family traveling to visit, it is a huge perk to be able to offer your guests a private place to stay.


Who Wants an ADU?
Many homeowners are looking for properties with a back house or ADU so that they have the extra space or can accommodate their adult children or elderly parents on the same property while still having space for themselves.
Do you OWN a property with an ADU? That comes with extra marketability! You might be able to get a premium when you go to sell, especially since with low inventory, homes with ADUs are rare.
Do you want to BUILD an ADU? It is not a "poof" and it appears in your backyard. process. It can require plans, permitting, construction costs, and coordinating with contractors, but if you absolutely love your location and don't plan to move, then it can be right for you. It can increase your home's resale value and your home equity.
Do you want to BUY a home with an ADU? One of our REALTORS will sift through properties to find something that is right for you.
City Resources
Many cities are realizing that their residents want information about ADUs so that they can evaluate their options. The City of Pasadena is doing free virtual consultations for Pasadena Homeowners who want to build ADU and ADU construction.
Learn more here:
https://www.pasadenanow.com/main/city-will-offer-free-virtual-consultations-for-adu-construction-in-pasadena
The City of Covina has fantastic Questions & Answers pages for Covina Homeowners interested in building an ADU:
https://covinaca.gov/pc/page/accessory-dwelling-units-adu
The City of Los Angeles has online resources about ADUs explaining some of the ways an ADU can be build: garage conversion, home conversion, new detached ADU, garage addition, home addition, and Junior ADU.
https://adu.lacity.org/about-adus
Laws and Regulations Concerning ADUs

The state of California passes laws and bills regarding ADUs and recently has made the state law supercede local restrictions. As a whole, ADUs are seen as part of the solution to the housing affordability crisis and lack of housing in the state.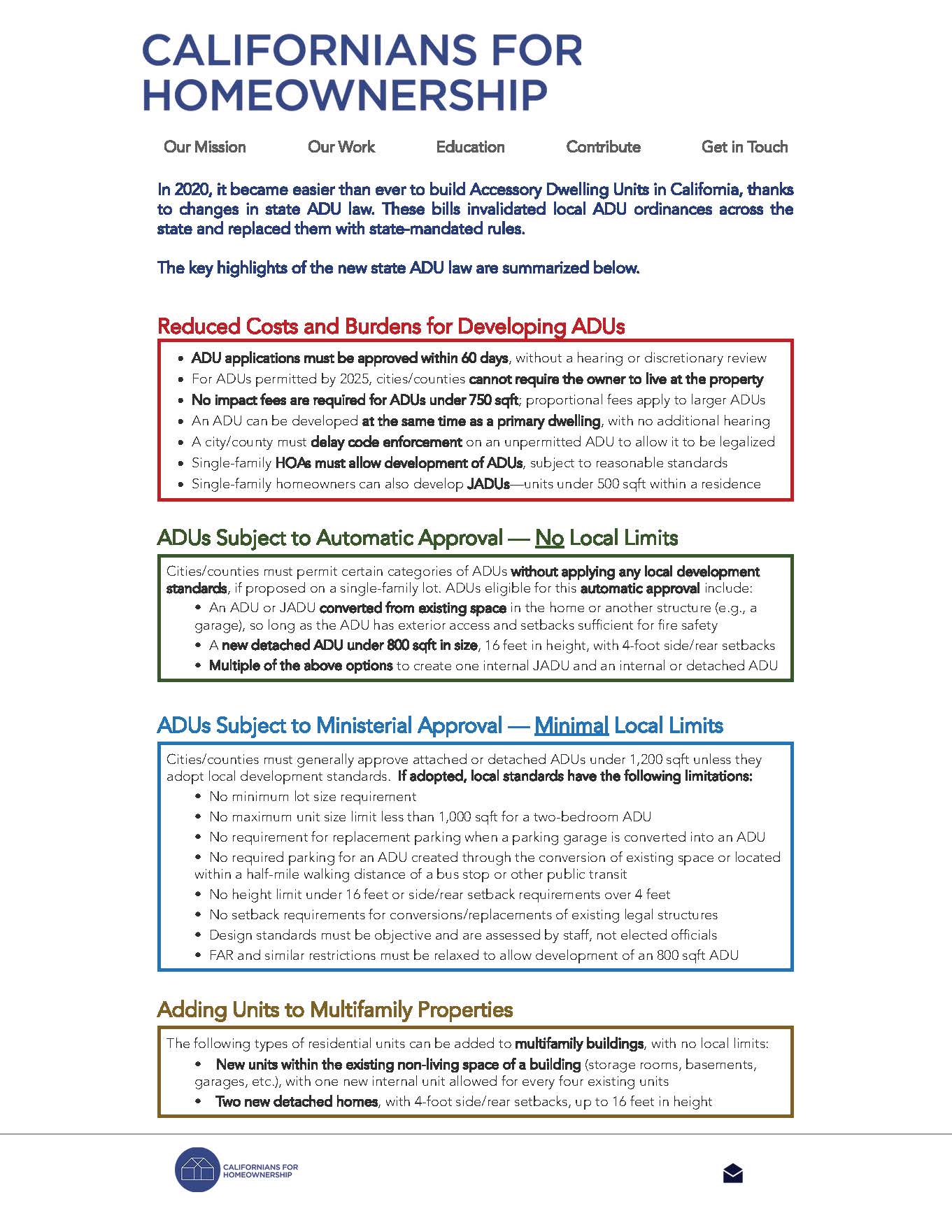 Contact us at (626)609-2130 or email us at Info@KALEORealEstate.com for additional information on home buying, home selling, investment properties, and real estate needs.