The first half of the year is wrapped up and the 6 month mark serves as a check-in point. How is our Southern California real estate market behaving?

From January to June, we saw considerable changes in inventory numbers, mortgage rates, and consumer sentiments.
More and more, we hear from clients who say they are keeping tabs on an area in Zillow or Redfin. Those automated emails are great, but we would love to be a part of your real estate decision making process earlier rather than later. If we see a great opportunity pop up, then we can give you a call immediately! Also, you can get alerts for Coming Soon properties that are not displayed on Zillow!
Our real estate go wherever their clients' needs are, so if you are inheriting a property in Oceanside or purchasing in Glendale, reach out to us! We want to help with your home buying and home selling needs.
As a cheatsheet of how Southern California is tracking, here are a few quick comparisons, narrowing in on the four local counties: Los Angeles, Riverside, San Bernardino, and Orange.
Number of Days to Sell:
January 2022: 13 Days
June 2022: 11 Days
Median Sale Price:
January 2022: $725,000
June 2022: $800,000
Number of Sales:
January 2022: 22,831
June 2022: 28,778
(This was a 26 percent increase in sales activity)
Average 30 Year Fixed Rate Mortgage Rates were around 4 percent in January and spiked to 6 percent in June.**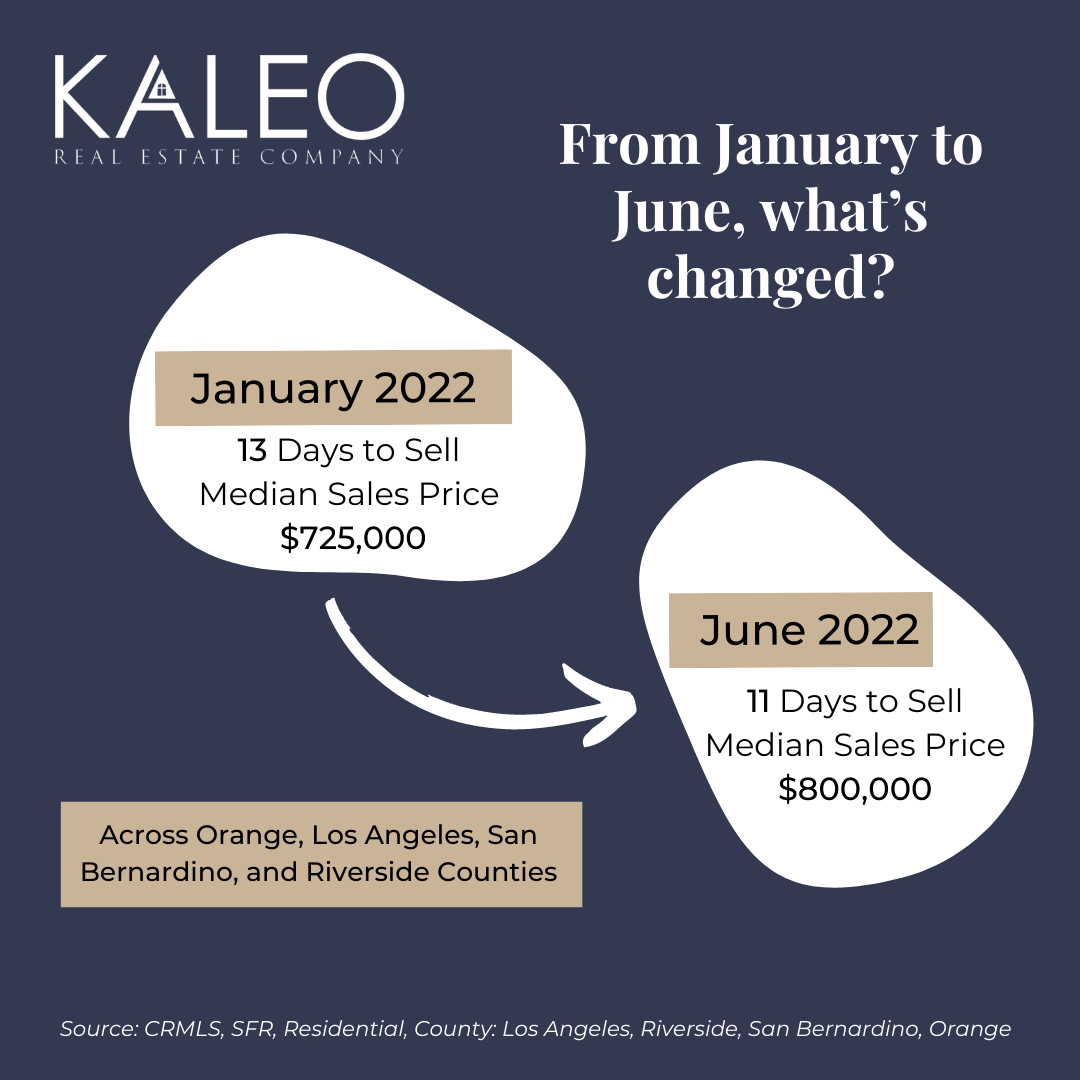 Why are people buying and selling right now?
Real estate is a safe investment. Real estate is tied to life events: growing families, shrinking families, inheriting properties, moving because of jobs, divorce, marriage, and more. Regardless of the economy or headlines, you can live in a house. You can't live in your stocks or cryptocurrency. Real estate is a wise asset to invest in both as a live-in owner occupant or as a landlord.
What has motivated you when you've gone to buy or sell a property? Is it a financial decision or life circumstances decision? Our guess is it will be a little of both.

Call us at 626-609-2130 or email us at info@KALEORealEstate.com for a quick response to any and all of your real estate questions.
Source:
*CRMLS, SFR, Residential, County: Los Angeles, Riverside, San Bernardino, Orange