We hosted a live stream event on "Moving Out-Of-State: 6 Things to Consider" which spoke to the logistics and process of selling in California and buying in another state. We have referral agents in other states — Texas, Tennessee, Arizona, Idaho — so that you have a trusted agent helping you in your purchase.
The live stream was geared towards home owners who had already made their decision to move.
If you missed the live stream, then please watch the recording on Youtube:
We are not convincing you to sell. We are not convincing you to buy.
When you hire any of our team of agents as your REALTORs, you have an advocate. We negotiate on your behalf and answer your questions throughout the process.
Everyone's life has a different timeframe of when decisions are made. If you have friends, family members, or colleagues considering a move, please send them my way so I can help them.
Many homeowners are concerned that when they sell their home and move, that they will lose their tax base. Proposition 19 was passed as a way for eligible homeowners to sell in California and buy in any other county of California and take their tax base with them.
Prop 19 allows h

omeowners who are 55+, severely disabled, or victims of wildfire or natural disaster to transfer their property tax base of their existing home to a new home anywhere in California without price restriction.
We are hosting a live stream on Prop 19 this Wednesday April 20th at 4:30pm. If you are interested in watching that live stream, RSVP on the Facebook Event page or visit the Zoom link: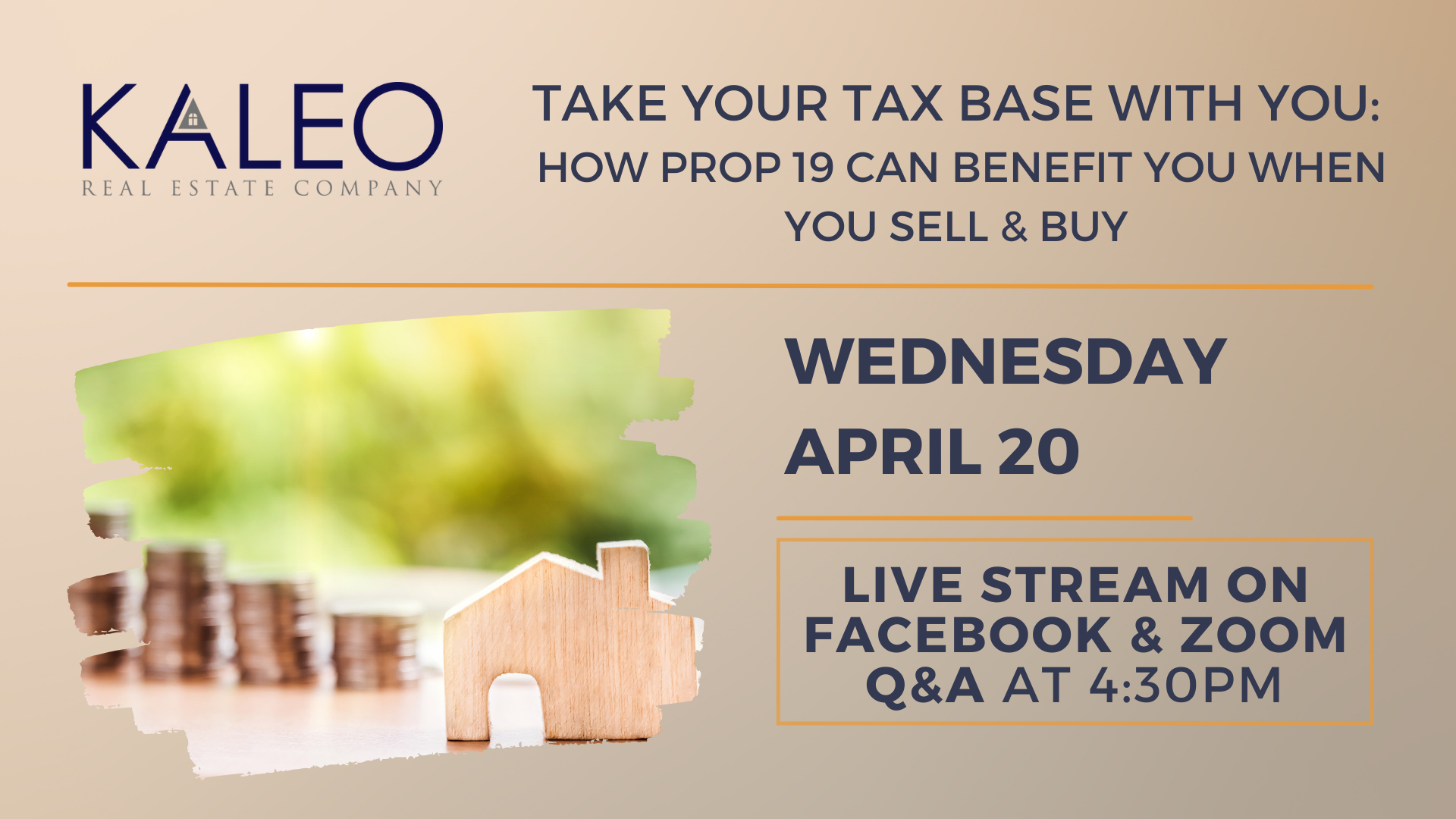 Here is the Facebook Live link for this Wednesday's event:
It seems like the internet doesn't agree: some articles say a housing bubble is about to pop; some articles argue that the underlying factors are substantially different than they were in 2008. With mortgage rates at 5 percent, some home buyers are motivated to wait it out, others are prompted to rush into an escrow.
Let's talk about what your home could sell for in today's market. Zestimate can be helpful for a ballpark figure. However, local markets are nuanced and marketing a home properly can help maximize your return when you sell.