What is everyone's favorite question about the housing market? Most people ask: "When is the housing market going to crash?" Crash is a strong verb. Most economists would predict a more modest price correction than a total crash.

Locally, low inventory and strong buyer demand means that we are still seeing multiple offers on the same property and busy open houses. From Glendora to Pasadena, into Orange County and Riverside and San Bernardino counties, buyers don't have a lot of options of homes to choose from.
13 Markets Forecast to have Declining Home Prices
CoreLogic rates 13 markets as having a "high" likelihood (between a 50% to 75% probability) of declining home prices in the coming 12 months.
Below are the 13 markets:
Niles, Mich.;

Lake Havasu City, Ariz.;

Chico, Calif.;

Lewiston, Maine;

Modesto, Calif.;

Muskegon, Mich.;

Pittsfield, Mass.;

Prescott, Ariz.;

Worcester, Mass.;

B

end, Ore.;

Kalamazoo, Mich.;

Merced, Calif.;

Springfield, Mass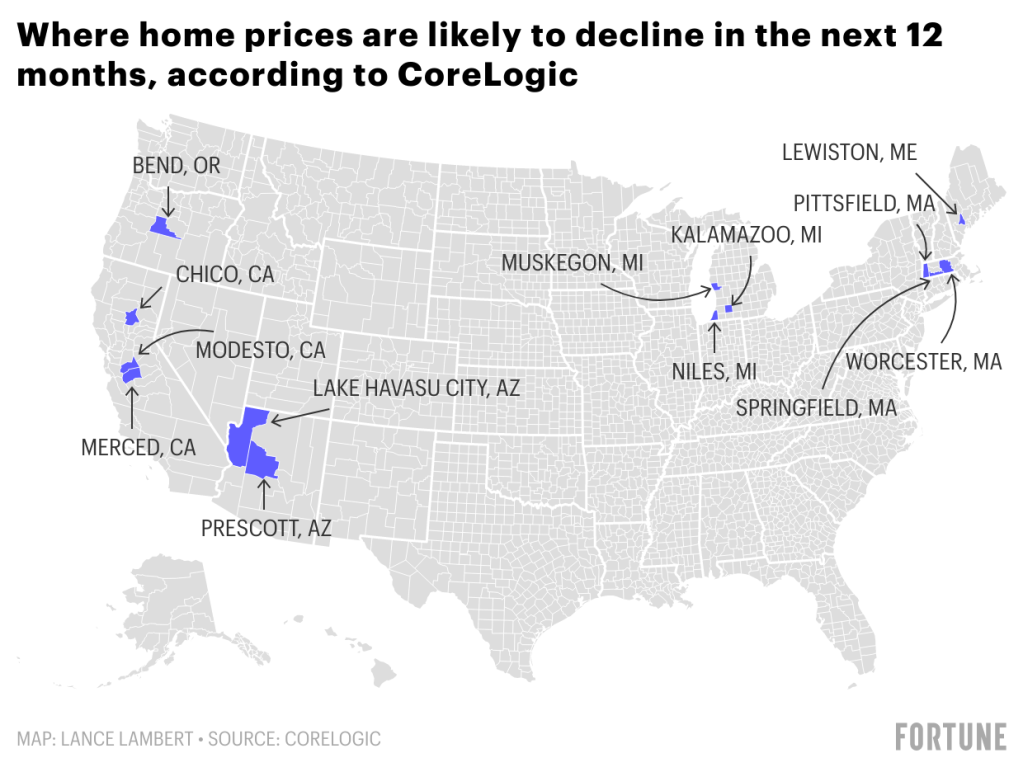 Corelogic speculates that in these markets, home buyers have had enough and would resist prices going up any further. Zooming in on the 3 markets in California — Chico, Merced, and Modesto — none of them are in Southern California.
Does this mean the housing market across America will tumble? No. In fact, Corelogic points out these 13 markets because they would be the outliers.
Who is Buying Right Now?
What are the key parts of home buyers making the jump to buy a market this competitive?
1. Emotional Commitment –
These buyers want to buy and even though they might get fatigued and burnt out on writing offers, they are more committed to having a new place to call home.
2. Financial Readiness –
These buyers have down payments and credit worthiness to buy and offer over list price, sometimes waiving appraisal or loan contingencies.
3. A Dedicated Real Estate Agent –
Buyers in this market need an agent (that would be me) who is their biggest cheerleader. My role is to advocate for you, guide you through the process, and answer any questions you have.
Call our office at 626-609-2130 or email us at info@kaleorealsetate.com for more information.