We are now crossing the two year anniversary of California declaring a state of emergency. Shelter-in-place was the buzzword of March 2020. What a two years it has been! Early in the pandemic in March and April 2020, the housing market slowed down with many home buyers getting cold feet about purchasing a property in an uncertain time. However, that has now flipped around.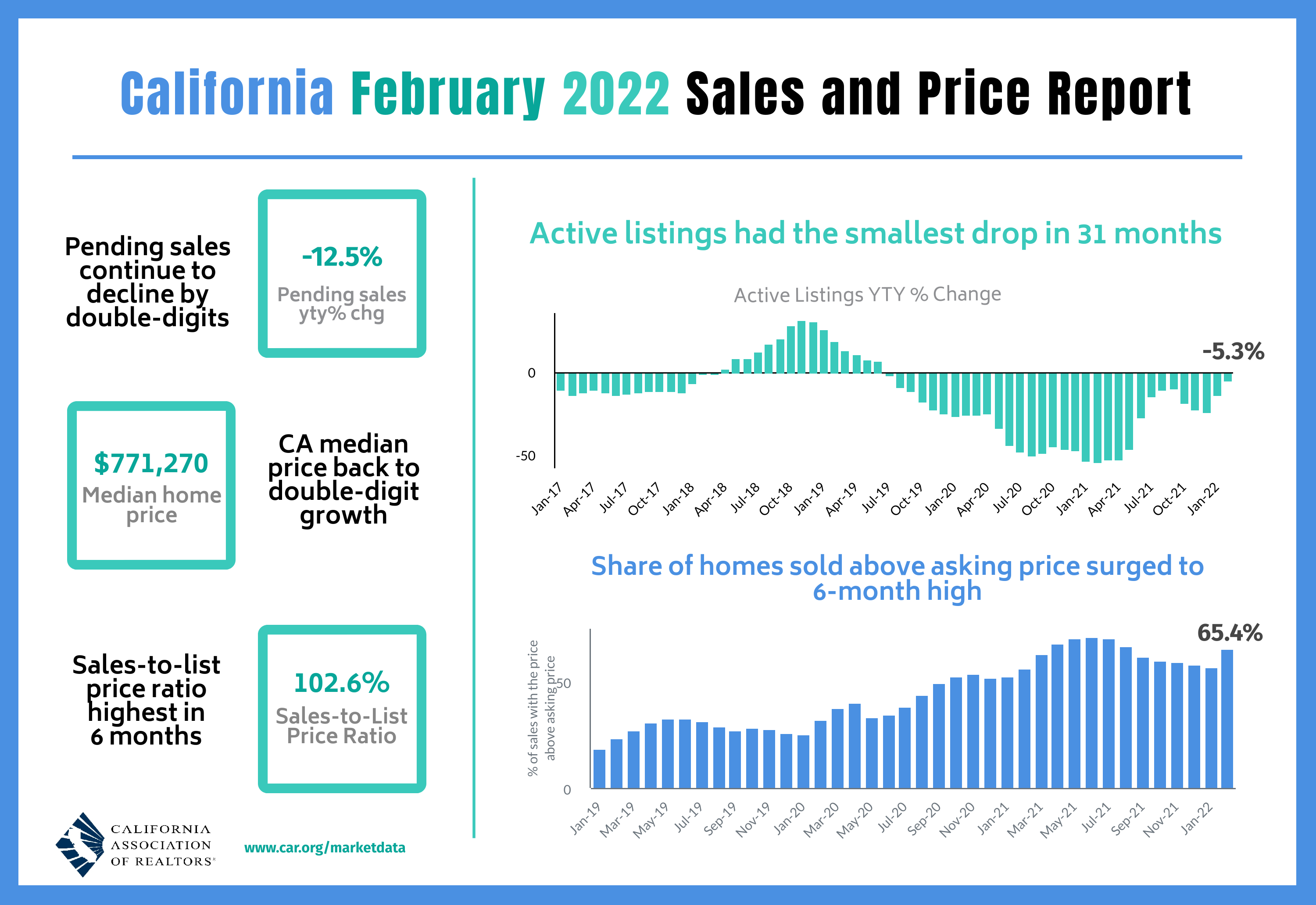 Here are 3 California Real Estate Statistics for February 2022:
1. The share of homes that sold above asking price surged to a 6-month high with 65.4 percent of homes selling above list price
2. California Median home price was $771,270. February 2022 home prices are up 0.7 percent from January 2022 and up 10.3 percent from February 2021
3. The median number of days it took to sell a California single-family home was 9 days in February and 10 days in February 2021.
"While home sales declined from both the previous month and year,
February's sales pace
was still the second highest sales level for a February in the last 10 years
and strong relative to pre-pandemic levels of 2018 and 2019,"
said
C.A.R. Vice President and Chief Economist Jordan Levine
. "However, the invasion of Ukraine has created geopolitical headwinds and pushed up inflation up a notch, which may keep mortgage rates elevated and cause the housing market to retreat amid the uncertainty."*
We have properties in escrow at our office for over 1 million dollars in Long Beach to mobile homes listed in Ontario for $100,000. We've helped sellers make top dollar in Upland, Northridge, Glendora, La Verne, San Dimas, Fontana, and Rancho Cucamonga. Our real estate agents work with their clients wherever their homes (or future home) is located.
If you are ready to take your home search from online to in-person, then contact us today.