Where are the top housing markets of 2021? A few of them are in California, but many of the hottest markets for 2021 won't come as a surprise to Californians. Why are they not a surprise? Because your friends or you have considered moving there!
The Top 10 Housing Markets Positioned for Growth in 2021
The top ten hot markets predicted in 2021 follow a trend we see of home buyers moving out-of-state to more affordable areas or within a state to the suburbs. Many Bay Area home buyers are looking East in Sacramento or South in San Jose instead of buying in pricing San Francisco.
Other Southern Californians might be moving to neighboring Arizona to a community like Phoenix with the sun and similar climate. Take a look at these top ten housing markets:
1 Sacramento–Roseville–Arden-Arcade, California
2 San Jose-Sunnyvale-Santa Clara, California

3 Charlotte-Concord-Gastonia, North Carolina/South Carolina

4 Boise City, Idaho

5 Seattle-Tacoma-Bellevue, Washington

6 Phoenix-Mesa-Scottsdale, Arizona

7 Harrisburg-Carlisle, Pennsylvania

8 Oxnard-Thousand Oaks-Ventura, California

9 Denver-Aurora-Lakewood, Colorado

10 Riverside-San Bernardino-Ontario, California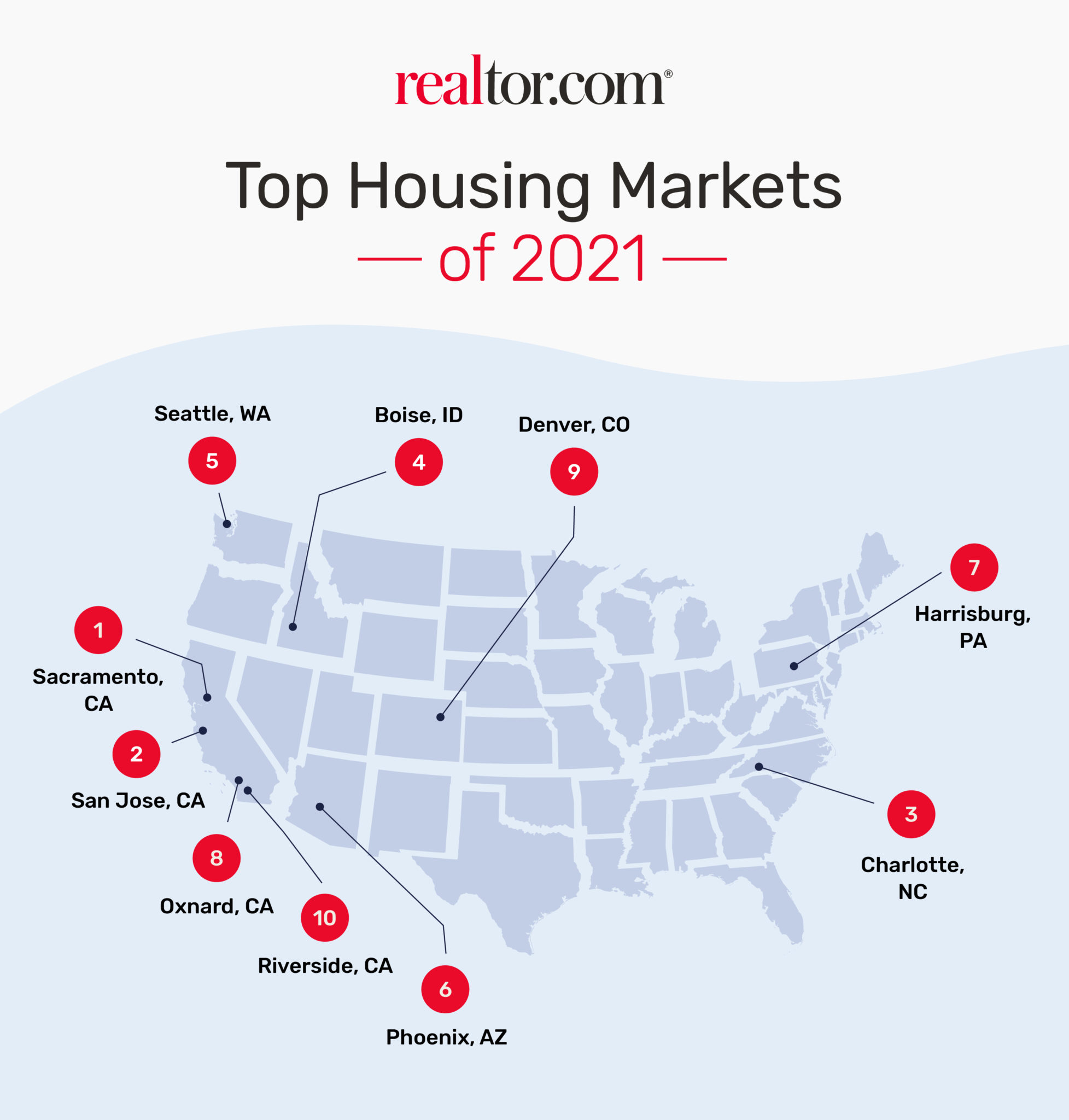 What to Expect in a Hot Market
Is #4 Boise, Idaho a surprise? Our office has helped multiple people relocate from Southern California to Boise. If you think you can't call me as your local REALTOR when you are moving out of state, think again! Our office has contacts with REALTORS out of state who can help you navigate the transition.
Even if you are not moving out of state, these hot markets affect you. Consider #10 on the list: Riverside, San Bernardino, and Ontario.
If you are a buyer interested in purchasing in Ontario, then you should prepare yourself for competition. With one of our REALTORs representing you, we consider every aspect of how we do business so that we can serve you in the best possible way. From writing up clean offers, communicating with the listing agent, being responsive, friendly, and organized, we put your offer in the best light.
Alternatively, if you own a home in a hot market, you can expect that the demand will be strong. Regardless of strong buyer demand, we don't cut any corners with the presentation of my listing. We use professional photography, drone video, social media advertising, email blasts with your listing, and ensure your property is displayed online. With home buyers starting their search online and deciding based on photos whether they want a showing, having a good visual presentation matters.