Raise your hand if you did at least one home improvement project since the start of the COVID pandemic….is your hand raised? If you've always been a HGTV fan or DIY hobbyist, then you've been doing weekend projects already. For the rest of us, COVID helped create a surge in interest & execution of improvement projects, big and small.
Over three in four America homeowners did a home improvement project (or more) since coronavirus began. What project did you complete?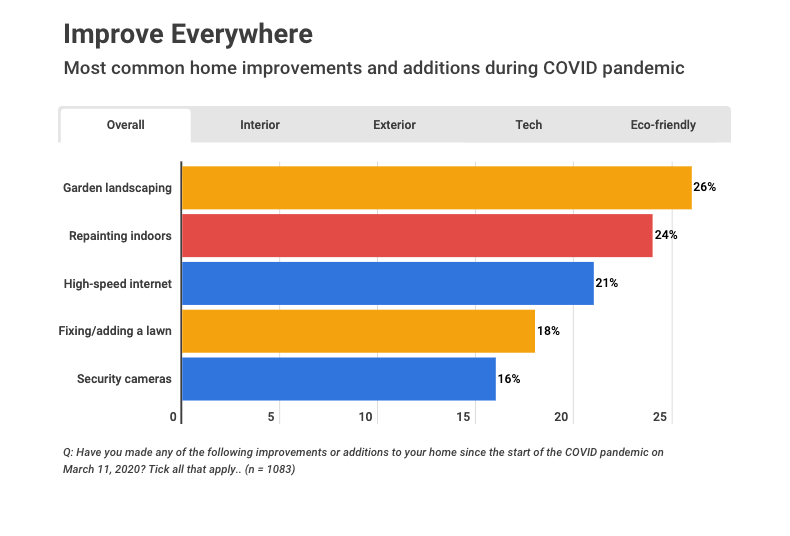 Twenty-five percent of Americans said that "finally having the time for it" was the reason for doing the improvements. "Adding value to your home" and "making your home feel more cozy" tied, with 21 percent of Americans citing those two reasons.
Having the time to do projects at home is an upside to the stay-at-home orders and completing the projects has given Americans a sense of purpose and accomplishment.
Many home improvement projects are practical. Many American homeowners have already (or are planning to in the next 12 months) add high-speed internet connection, an outdoor pool, home office, or home gym to their house.
With gyms being shut down and many offices not yet reopening, those are practical improvements that do add value to your home. Not to mention, no more complaining about slow streaming for Netflix, Disney Plus, or Amazon Prime when multiple family members are logged in.
When our real estate agents meet with sellers considering putting their home on the market, they often ask how much their home improvement projects will affect the value of their home. Just how much will the new exterior paint or fresh landscaping increase the sales price? Will buyers be wooed by a covered patio and outdoor grill or are plumbing and AC upgrades more desirable?
Before starting home improvements and spending money on upgrades expecting to get a full return on your investment, please reach out to me! I'd love to share my experiences from showing buyers multiple homes and helping sell above asking. You don't always get a full return on your investment so I always suggest that you complete upgrades that you would benefit from while living in the house.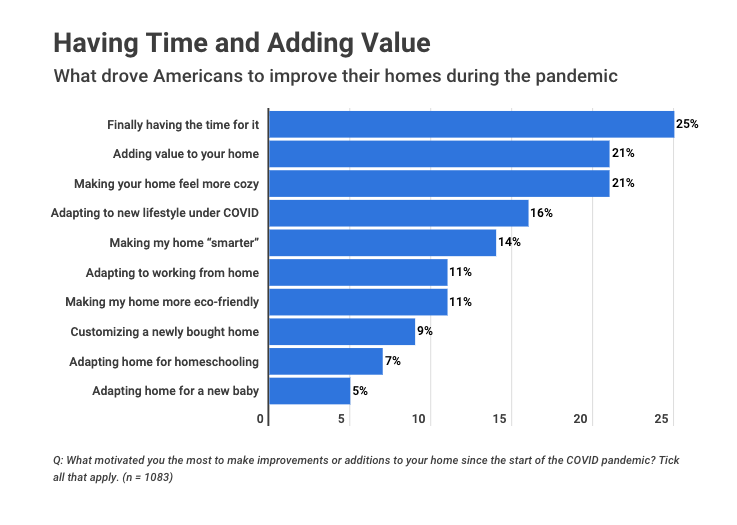 What is next on your list of home improvements?
Curious about how much all these improvements have cost? The Porch Survey found that "American homeowners spent a median amount of $17,140 on improving their homes since the pandemic began, with an average of five improvement projects per household."*