As of January 1, 2020, new bills went into effect that overhauled the existing regulations regarding ADUs.
Quick quiz, what does ADU stand for?
A. Attached Dwelling Unit
B. Accessory Dwelling Unit
The answer is B. Accessory Dwelling Unit!
What is an accessory dwelling unit and why would it matter to you?
"An accessory dwelling units (ADU) or 'in-law unit' is a housing unit built in or on the same lot as an existing single-family home, or through the conversion of an accessory structure like a garage."**
ADUs are great options for living space for elderly parents, adult children, renting out, a hobby or workout room, or just additional space. ADUs can be attached, detached, second story above garages, and converted garages.
Although the public's interest has been piqued by ADUs for the past few years, construction and garage conversions into ADUs have been difficult to get approval through cities and local jurisdictions because of strict local ordinances requiring replacement parking, specific setback distances, owner-occupancy, lot size, and other factors.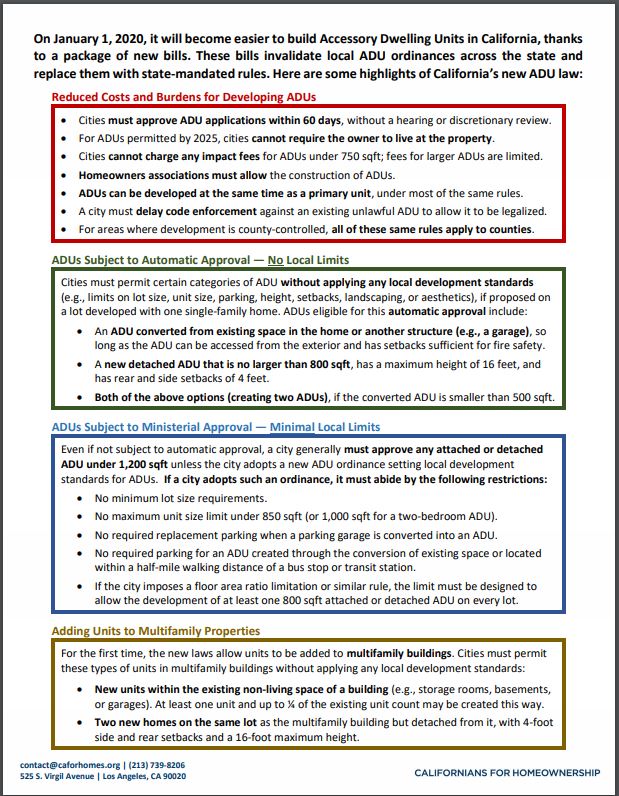 Effective January 1, 2020, a set of new bills from the California Legislature makes it easier to build ADUs.
As the California Association of Realtors Legal team explained, "These three laws remove potential impediments to their construction in three ways: by limiting the criteria by which local jurisdictions can limit where ADUs are permitted; by clarifying that ADUs must be ministerially approved if constructed in any existing space; and by eliminating for five years the potential for local agencies to place owner occupancy requirements on the units."*
Have you considered building an ADU on your property, but were discouraged by local restrictions or the uncertainty of the process?
Does the "no owner-occupancy required" change make you want to purchase a home with an ADU as an income property for your real estate investment portfolio?
Whether these sweeping changes get you excited or nervous, contact us to help you with your real estate needs!
Sources:
*CAR.org Legal New Laws 2020