Before you say "It is only October, why are we looking ahead to 2020?" I wanted to preface the information.
Economists are constantly forecasting the next couple months and years in the real estate market. Will mortgage rates go up? Will mortgage rates go down? Will home pricing re-calibrate or go down next year? The housing market can affect consumers and "the average Joe" in America more directly than the stock market or other economic indicators. The housing market is core to the economic success of any state.
Economists, however, are the experts and forecasts are not a guessing game or throwing a dart at a random percentage. They look at the prior years, comparing actual numbers to the numbers forecast. They look at current economic situations and integrate a wide variety of statistics and indicators.
2020 Housing Market Forecast
The 2020 California Housing Market Forecast provided by the California Association of Realtors was released September 26, 2019. It includes the following predictions:
1 -The average 30-year fixed mortgage interest rate will dip to 3.7 percent
2 – The housing affordability index will remain roughly the same as in 2019 at 32%
3. The median sales price is forecast to increase by 2.5 percent
4. The median sales price is forecast at $607,900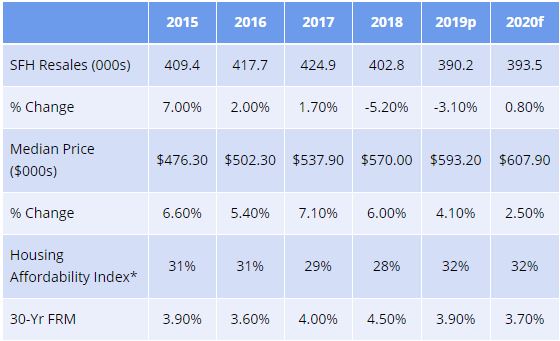 Buying A Home or Selling Your Home Before 2020:
Expectations
The holidays lie ahead of us. Pull out a calendar and look at the rest of October, November, and December. If you are considering listing before the end of the year or purchasing before the end of the year, please give our office a call at 626-609-2130.
Our real estate agents work with their clients to set expectations.
Here are 4 things to ask yourself regarding your home purchase or home sale:
1. How quickly are you expecting to close escrow?
2. What net proceeds are you expecting from your sale?
3. How long do you think it will take for you to find your perfect house once you start looking at homes?
4. What are the out-of-pocket costs of purchasing or selling that you are budgeting for (example: inspection costs, closing costs, moving, etc.)?
If you are expecting to close escrow by Christmas, then we need to back into that deadline and figure out when to list (ideally soon).
Sources: