August is still the heat of summer with daytime temperatures in the high 90s, but most school districts start well before Labor Day. Take a look at the first day of school for local districts.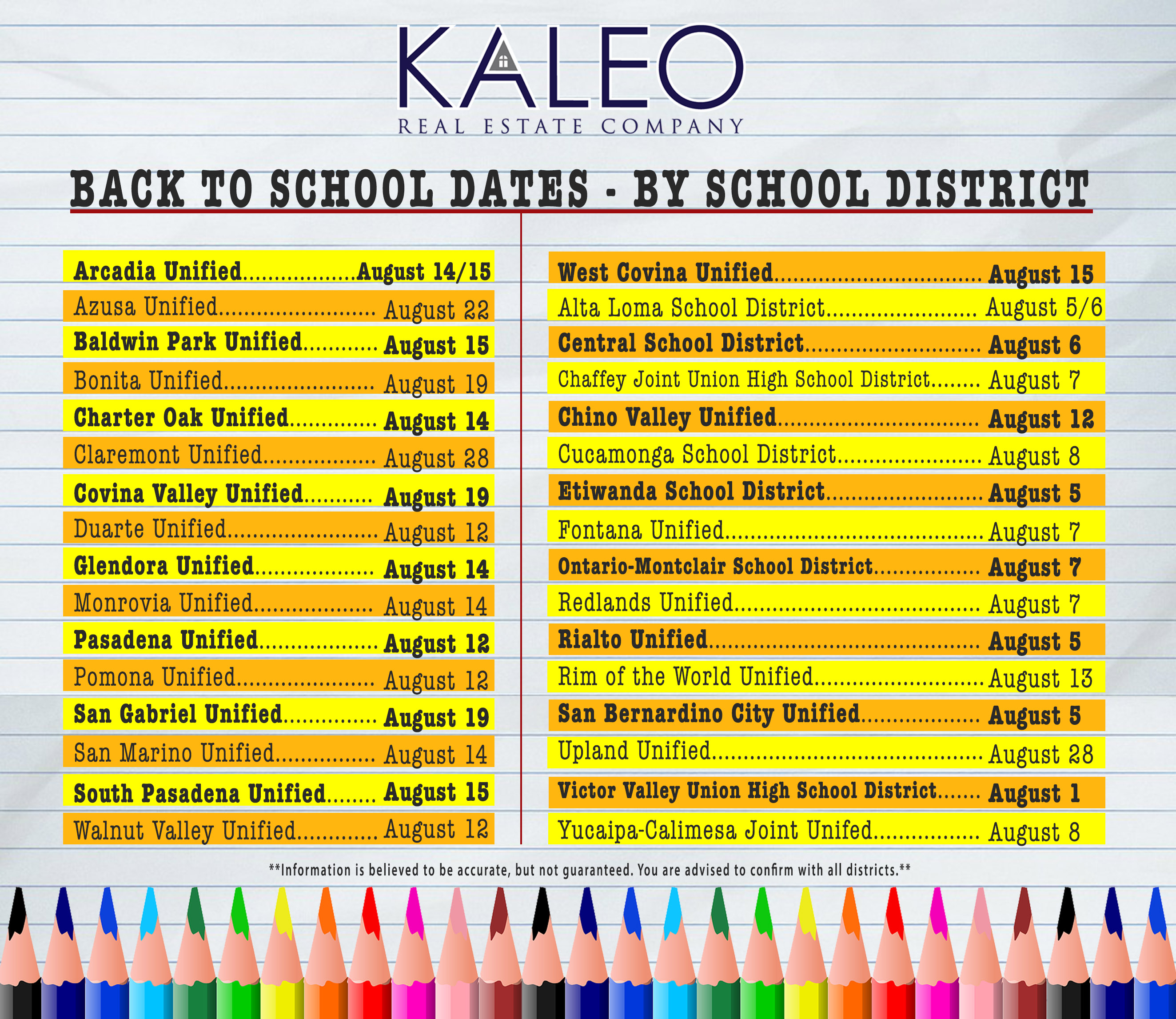 School districts are a high priority for buyers. School districts with higher average graduation rates, smaller student-teacher ratios, specialty programs for sports or the arts, and advanced (IB and AP) class options are all popular. If you are considering a move and your primary motivation is the school district, then you should check out a website like Great Schools.org. It breaks down test scores, reviews, and other metrics. Here are a couple of stats about the California Real Estate market in June 2019.**
Median Number of Days to Sell a California Single Family Home
19 days
Average Statewide Price Per Square Foot
$292 per sq. ft. for existing single family homes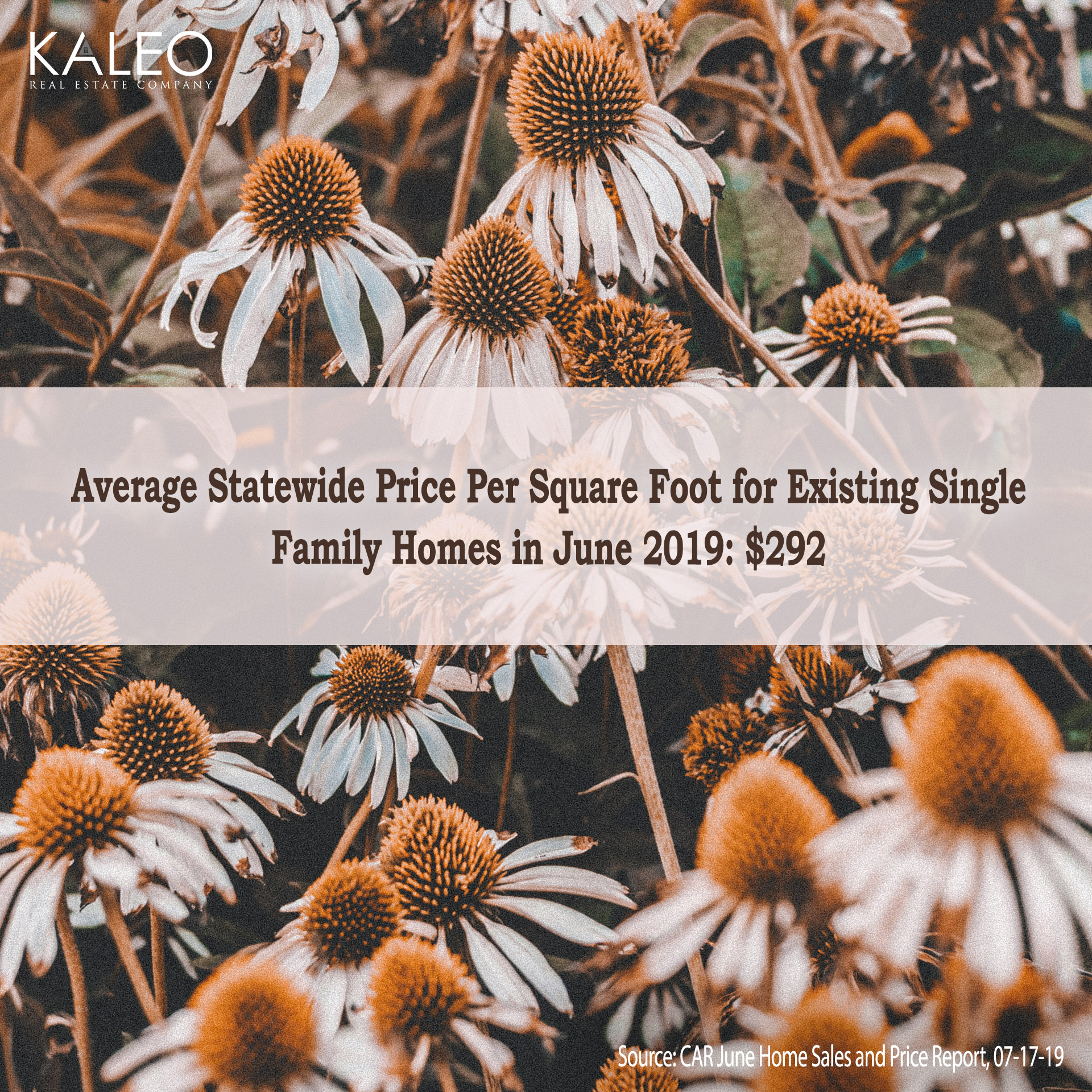 Developments, new building, restaurants, shopping, transportation, and access to recreational activities all affect buyers interest in a city. Check out some local updates in San Bernardino and Los Angeles County:
SAN GABRIEL VALLEY –
"Foothill Transit is building a park and ride facility in Covina, complete with retail stores and a multilevel garage that will anchor a new commuter express bus line to downtown Los Angeles….Included in the design is 4,400 square feet of commercial and retail space for stores and restaurants."* The commuter bus line will stop at Cal State L.A., USC Medical Center, and other downtown Los Angeles stops.
AZUSA –
"OneLegacy will relocate its corporate office from downtown Los Angeles to a new 4.45-acre property it has acquired in Azusa, at 1303 Optical Drive."***

CLAREMONT-
"Avison Young has completed the sale of a 4.4-acre site for the development of a new auto dealership in Claremont….Located at 667 Auto Center Drive."***

GLENDORA –
A co-branded Fatburger and Buffalo's Express is opening at 1331 S Lone Hill Avenue #110 in Glendora.***


WEST COVINA –
"Emanate Health, formerly Citrus Valley Health Partners, has been selected Best Hospital in the San Gabriel Valley in the 2019 Readers Choice Awards…The chain's family of hospitals and hospice include Emanate Health Foothill Presbyterian in Glendora; Emanate Health Inter-Community in Covina; Emanate Health Queen of the Valley in West Covina; Emanate Health Hospice and Emanate Health Home Care in West Covina; and various clinics throughout the region."***.


REDLANDS –
The City of Redlands launched a new website designed to be more user friendly for Redlands residents and businesses. Visit the new website here: https://www.cityofredlands.org/


RANCHO CUCAMONGA –
The 2019-2020 city budget was approved June 27 by the city council and includes a variety of improvements and projects in the city including: "$400,000 in water-conservation projects, including removing turf and replacing it with drought-tolerant landscaping…$575,000 on the design of interactive children's exhibits at the library, a multi-year project that won't be completed until at least 2021…A second phase of Etiwanda Park will be designed, at an estimated cost of $450,000. LED lighting will be added to Garcia Park's fields, at a cost of about $500,000. City officials expect to spend $832,000 to upgrade the deteriorated rubber playground surfaces at 12 parks….$57 million on road resurfacing and repaving, with $52 million of that on the Etiwanda grade-separation and road-widening project. Officials plan $4 million in upgrades to the traffic management system so traffic lights can better adapt to changing traffic conditions."****