"Millennials aren't buying houses because they are buying avocado on toast" — Do you remember when that article was circulating? The backstory of that article and ensuing meme frenzy was an interview with an Australian millionaire who was quoted saying, "When I was trying to buy my first home I wasn't buying smashed avocados for 19 bucks and four coffees at $4 each"*.
Despite Millennials' reputation for eating at Instagram perfect restaurants, choosing freelance work over corporate jobs, and for not wanting to settle down, a recent Chase Home Lending survey found that Millennials are highly motivated to purchase their first home.**
"Millennials are hyper-focused on their personal path to homeownership. Both mature and modern, they understand that this is a momentous decision, and are completely committed to making it a reality," said Amy Bonitatibus, Chief Marketing and Communications Officer for Chase Home Lending. "And despite common misconceptions, they're planning ahead, making smart financial decisions and willing to adjust their current lifestyle to make homeownership possible."**
Millennials are the highest share of home buyers out of all the other generations for the 5th year in a row
7 out of 10 millennials are willing to cut back on weekend activities at least once a month if it meant they could buy a home
Millennials are discussing home buying with friends (roughly 68 percent)
71 percent of women are willing to limit eating out and drinking to once per week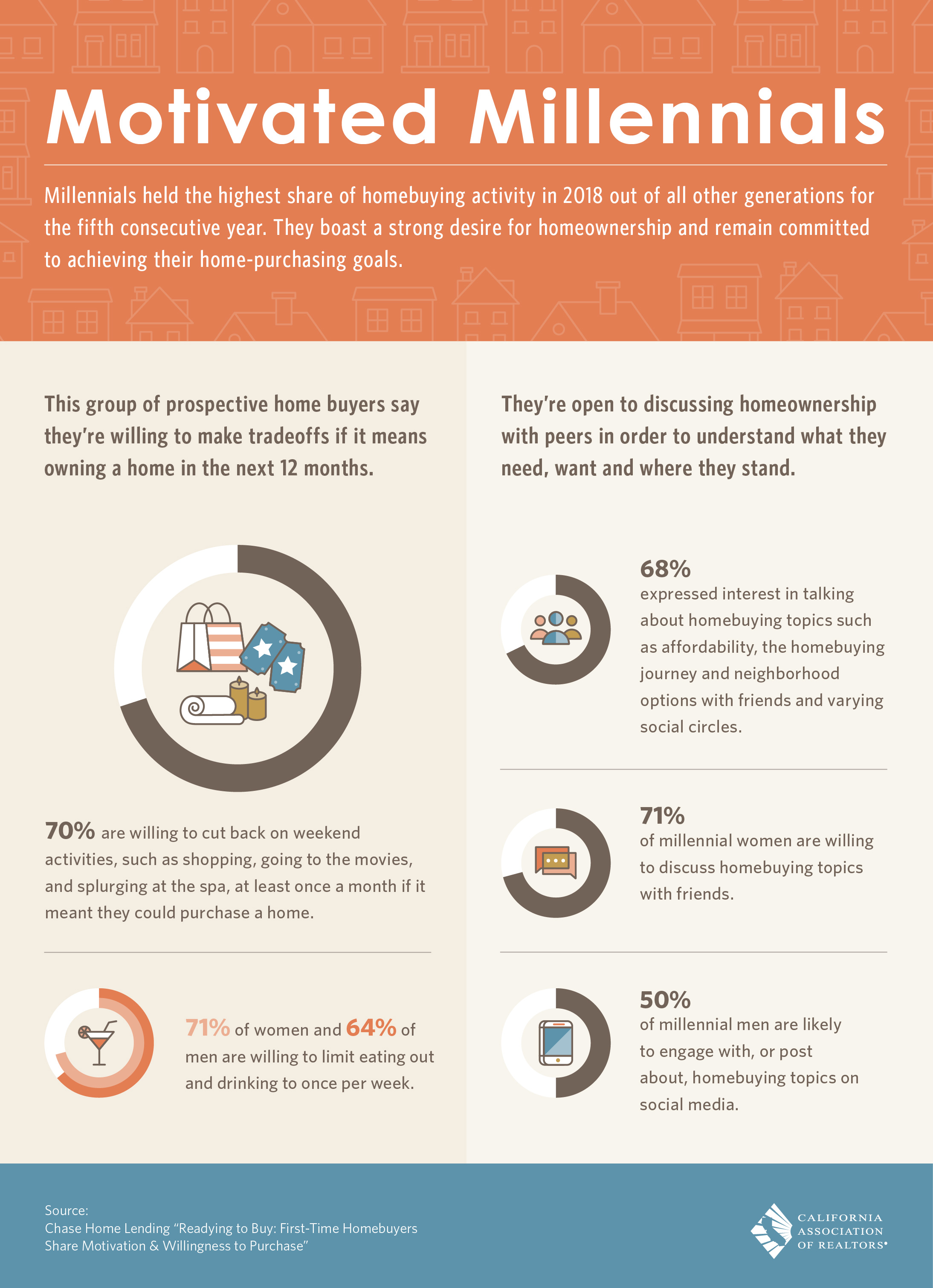 Home buying can require sacrifice: creating a budget, cutting back on splurges and unnecessary expenses, and planning. However, you should not have to sacrifice the quality, expertise, and dedication of your real estate agent. Your REALTOR should go above and beyond in educating you, guiding you, helping you, showing you property, and submitting your offers.
Our real estate office works with home buyers in all demographics and generations. Whether it is your first home or you are selling your family home and moving into your "downsize/forever" home, we would love to connect you with your perfect agent.
When you are motivated to buy a home, choose a motivated agent who will work on your behalf as your fiduciary to get the deal closed.
Sources: