Living in California has enormous upsides — beautiful beaches, sunny 70 degree days, and the best entertainment and attractions — but the biggest downside of living in California is earthquakes!
Ready.gov provides in-depth information for earthquake safety. What is an earthquake myth? The safest place in the house is NOT in a doorway. You are actually more safe under a table!
During an Earthquake

DROP
where you are, onto your hands and knees. This position protects you from being knocked down and also allows you to stay low and crawl to shelter if nearby.
COVER
your head and neck with one arm and hand If a sturdy table or desk is nearby, crawl underneath it for shelter.
If no shelter is nearby, crawl next to an interior wall (away from windows)

Stay on your knees; bend over to protect vital organs
HOLD ON
until the shaking stops.
Under shelter: hold on to it with one hand; be ready to move with your shelter if it shifts

No shelter: hold on to your head and neck with both arms and hands."
As residents of California, it is our responsibility to be aware of the risks of earthquakes. Drop, cover, and hold on is the 3 word slogan of earthquake survival. The reality is that we don't experience high magnitude earthquakes on a day-to-day basis, so it is easy to brush aside earthquake preparation because the risk feels distant or unlikely.
7 Steps to Earthquake Safety
Here are 7 Steps to Earthquake safety provided by the California Earthquake Authority**:
2. Plan to be safe by creating a disaster plan
3. Organize your disaster supplies
4. Minimize financial hardship by organizing important documents and considering insurance
SURVIVE

5. Drop, cover, and hold on during an earthquake
6. Improve safety by evacuating, preventing further damage, and helping others
7. Restore daily life by reconnecting with others,repairing damage, and rebuilding community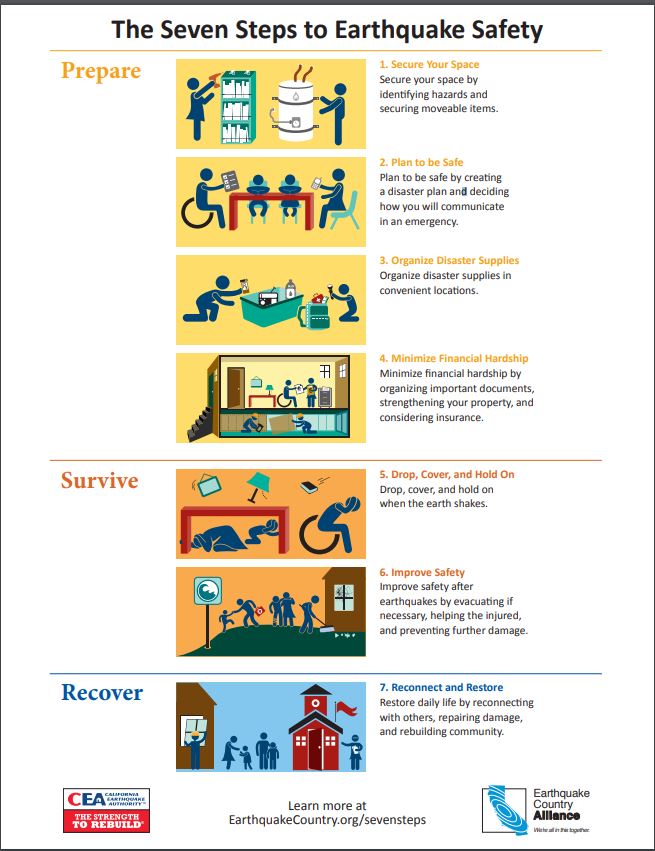 Before an Earthquake: Emergency Earthquake Kit
Do you have an emergency earthquake kit in your home? Have you talked as a family about what your earthquake plan is? Make it a weekend project to create the plan, make a kit, and talk about what your plan is.
The basic emergency supplies recommended by FEMA.gov include the following:
Water – at least 1 gallon of water per person per day (at least a 3 day supply)

Food – at least a 3 day supply per person of non-perishable food

Flashlight, radio, and cell phone charger that will charge without electricity

Medical – first aid kit, medications, and medical supplies

Sanitation – hand sanitizer, towlettes, paper products, and plastic bags

Assistive Technology – battery backup for mobility devices, oxygen and other assistive technology needs

Clothing and Blankets – warm clothing, thick-soled shoes, work gloves

Whistle

Cash – in case ATMs are not working

Fire Extinguisher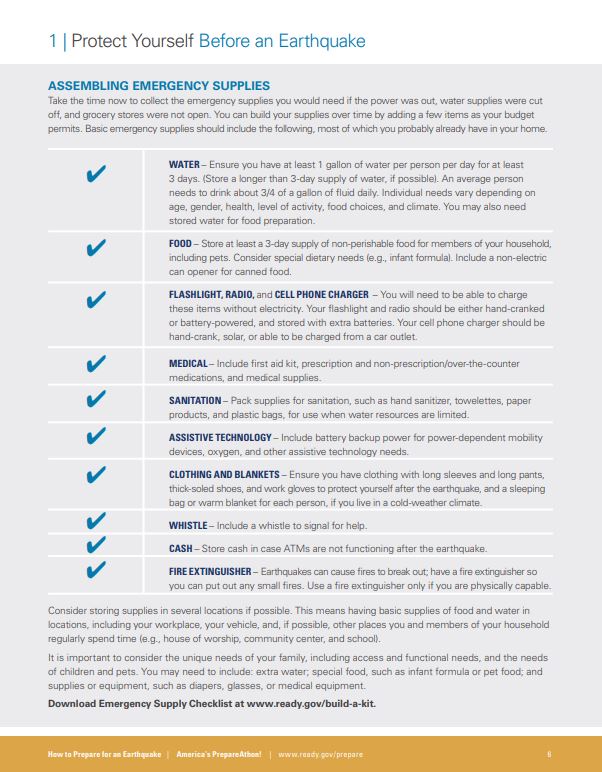 As a brokerage, KALEO Real Estate Company is an advocate for home owners and communities. Safe communities are better communities to live in and knowing more about earthquake preparation makes our friends, family, and loved ones safer.
All information is believed to be accurate, please verify.