REALTORS are often the first point of contact for buyers and sellers for any questions related to a house: appliances, interior and exterior fixtures, and general home ownership questions.
Sometimes appliances are included in the sale of a home. The next question that a buyer might have is: what is the value of the seller leaving the washer, dryer, fridge, and dishwasher? Is it worth $1000? $500? $5000?
As Simply Self-Storage put it:
"When you own a home it's important to budget annually for repairs that might be needed and anticipate when things might need to be replaced."
Maintaining exterior and interior features and appliances is a part of home ownership. When you are shopping for your next home, sometimes you are comparing apples to oranges. Not only are the architectural styles and floor plans different — open floor plan, modern versus Colonial — but the condition of the homes are different. How can you measure the value of an older home that was renovated 2 years ago versus a home that was built 10 years ago, but hasn't been maintained well?
Here is the lifespan of a few exterior features:
Window Unit AC – 10 years
Here is the lifespan of a few interior features:
Faucets and Fixtures – 15 years


Here is the lifespan of a few appliances:

Washing Machine – 12 years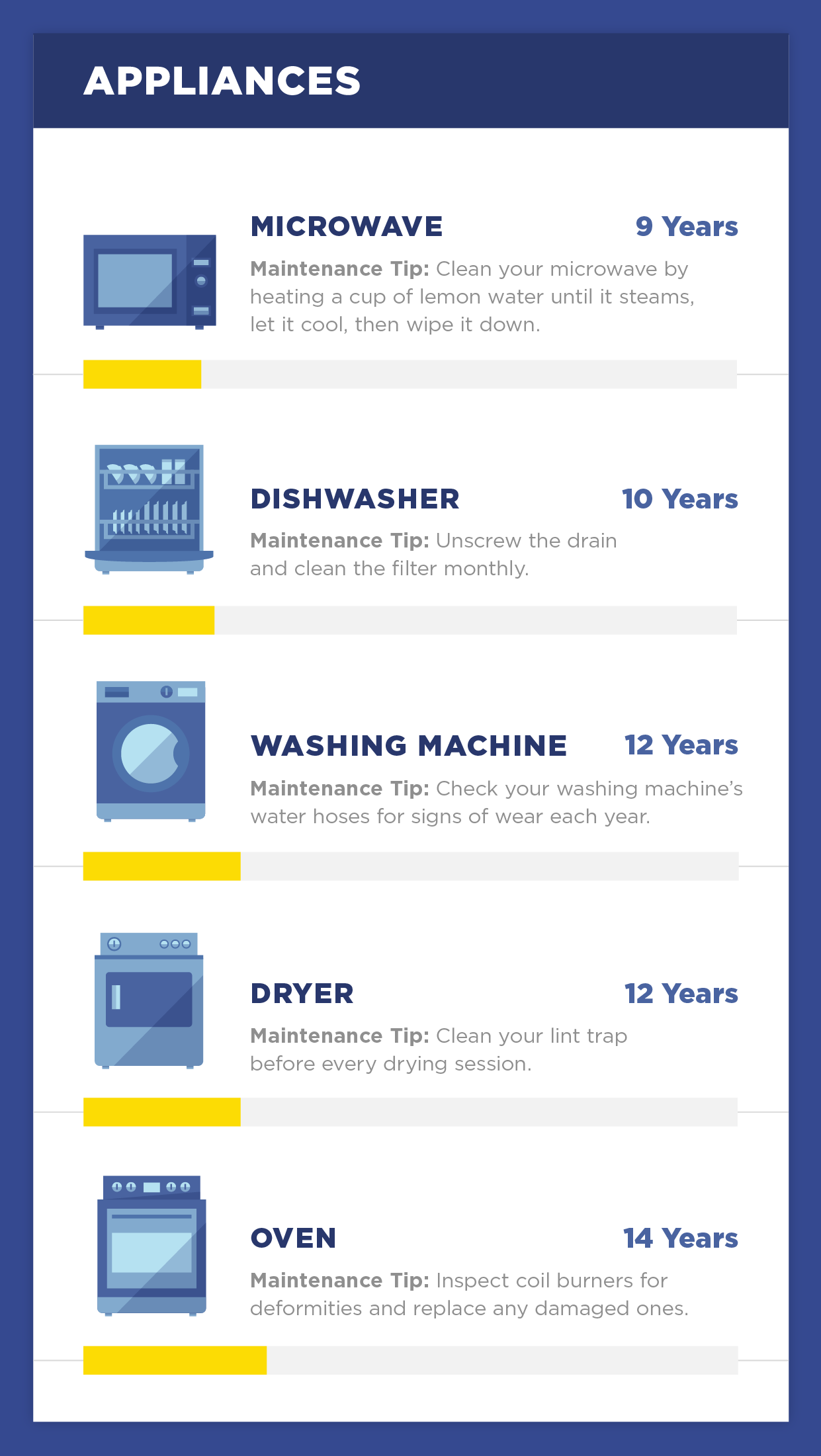 Our real estate office is an advocate for home ownership. Our role is to provide information and resources to home owners and home buyers. Owning real estate is one of the primary ways that Americans build wealth whether it is their primary residence or an investment property.
According to BankRate, as of Wednesday July 10, 2019, the 30 year fixed mortgage rate was 3.97% — it is inching towards 4 percent again. Low mortgage rates are good for home buyers, but there is never a guarantee for how long they will stay low!
Source:
Infographic courtesy of Simply Self Storage