What is the AMGEN?

The best elite professional cyclists compete over 7 stages over 7 days, May 12-18, from Northern California to Southern California. Cyclists go through 14 host cities including Santa Clarita, Mount Baldy, Ontario, and Pasadena.
The men's cycling race begins in Sacramento and ends in Pasadena, CA over the course of 7 days. The women's cycling race lasts 3 days and begins in Ventura and ends in Pasadena, CA

If you have seen signs about road closures in Glendora, La Verne, Claremont, or Pasadena, you might have seen the foreshadowing of this weekend's cycling race.
The men's and women's cycling races do have different courses.
As the AMGEN website describes the race:
Amgen Tour of California is a Tour de France-style cycling road race created and presented by AEG that challenges the world's top professional cycling teams to compete along a demanding course that traverses hundreds of miles of California's iconic highways, byways and coastlines each spring.

AMGEN Tour of California in Glendora, CA
The AMGEN Tour of California completes the Ontario to Mount Baldy leg of the race and passes through Glendora Ridge Road and Glendora Mountain Road.
The men's and women's cycling paths are different. Friday May 17 is Stage 6 for the men's race and Stage 2 for the women's race.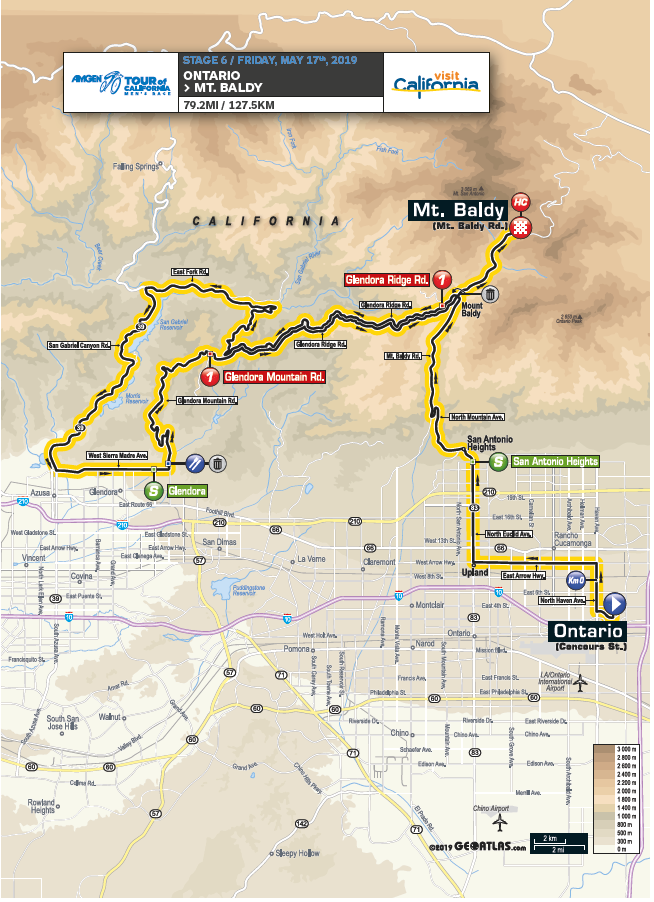 AMGEN Tour of California Road Closures in Glendora, CA
You may want to review the Glendora, CA road closures before planning your Friday morning. Take a look at the road closures in Glendora as roads will be closed to all vehicles and pedestrian traffic during those times.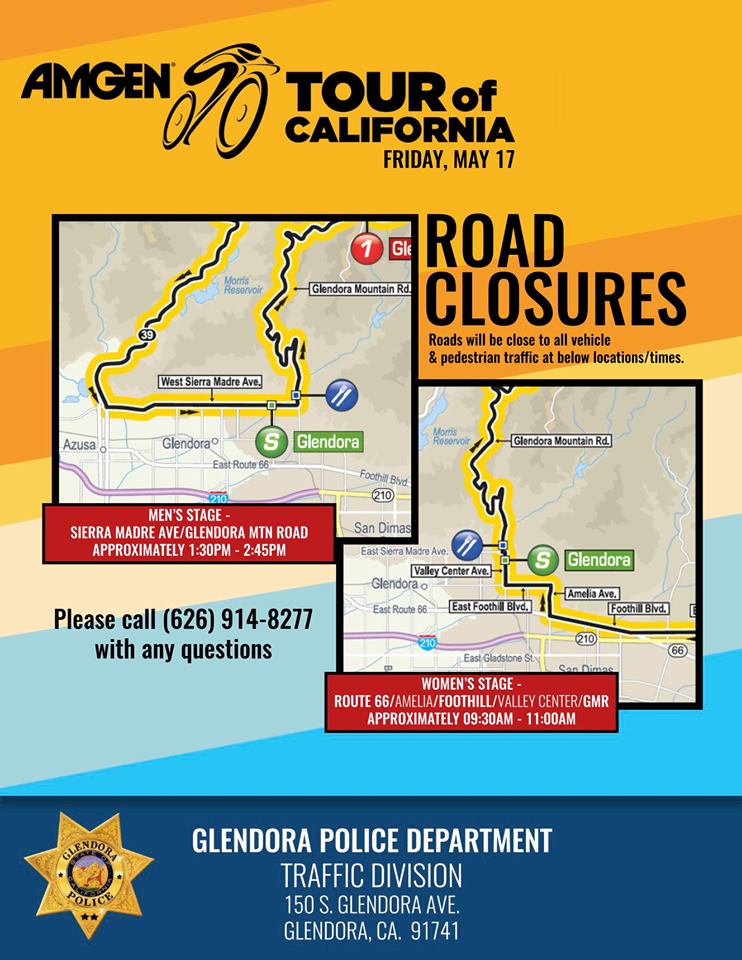 AMGEN Tour of California in Claremont, CA
The AMGEN Tour of California will pass through Claremont, CA on Friday May 17, 2019. The City of Claremont provides helpful information for commuters and residents:
On the morning of Friday, May 17, Base Line Road will be closed for approximately an hour as the Amgen Tour of California passes through Claremont. Amgen is the largest professional cycling race in North America. Stage 2 of the women's race will begin at the Citizens Bank Arena in Ontario at 9:25 a.m. After cycling through Ontario, Rancho Cucamonga, and Upland, the race will enter Claremont on Base Line Road from the east, near Padua Avenue/Monte Vista Avenue. The race will continue westbound on Base Line Road and exit the city limits near Live Oak Canyon.
To accommodate the race, there will be a full closure of Base Line Road in both directions from approximately 9:30 a.m. to 10:30 a.m. on Friday, May 17. Oncoming traffic will be stopped about ten minutes before the race. Traffic going the same direction of the race will be allowed until the race approaches. All driveways exiting onto the course will be closed as the race passes. Traffic will be allowed to cross the course at select intersections until the race is approaching. All public facilities, parks, and businesses will remain open. The closure will be managed by the California Highway Patrol and the Claremont Police Department and they will make every effort to minimize the impact on residents, businesses, and traffic. For more information, visit www.amgentourofcalifornia.com or call (888) 777-7517.
The women's cycling portion for Stage 2 (which is Friday May 17) starts in Ontario, CA and ends in Mount Baldy. Their path goes up North Haven, along East Arrow Highway, up North Euclid along Baseline. From Baseline to Foothill, the female cyclists will ride up Glendora Mountain Road to Mount Baldy.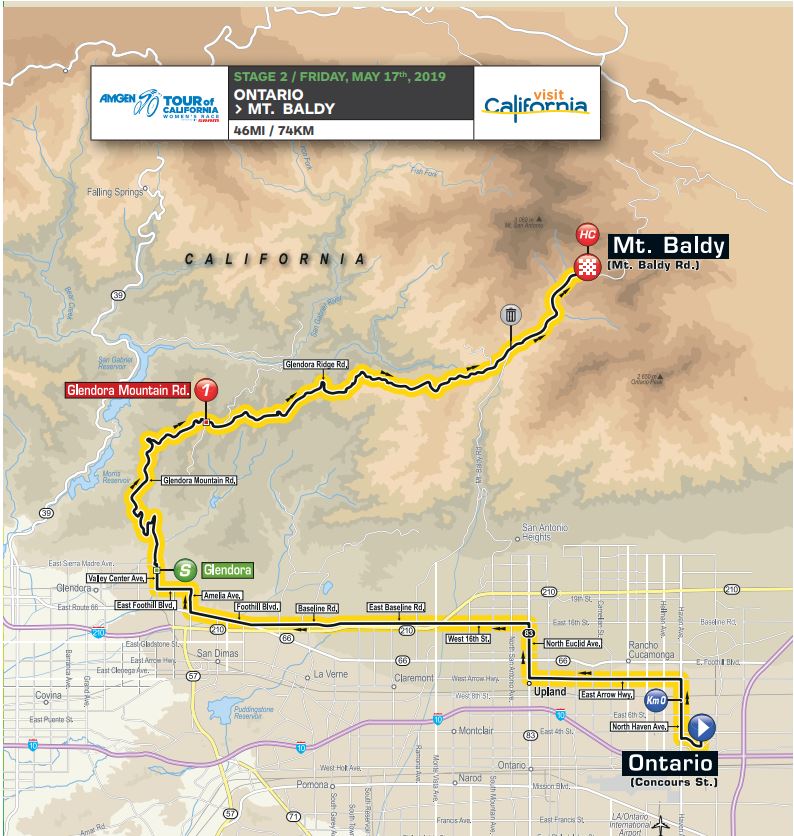 AMGEN in Pasadena, CA
The AMGEN Tour of California ends its 7 day, 7 host city race in the City of Roses, Pasadena, CA at the iconic Rose Bowl Stadium.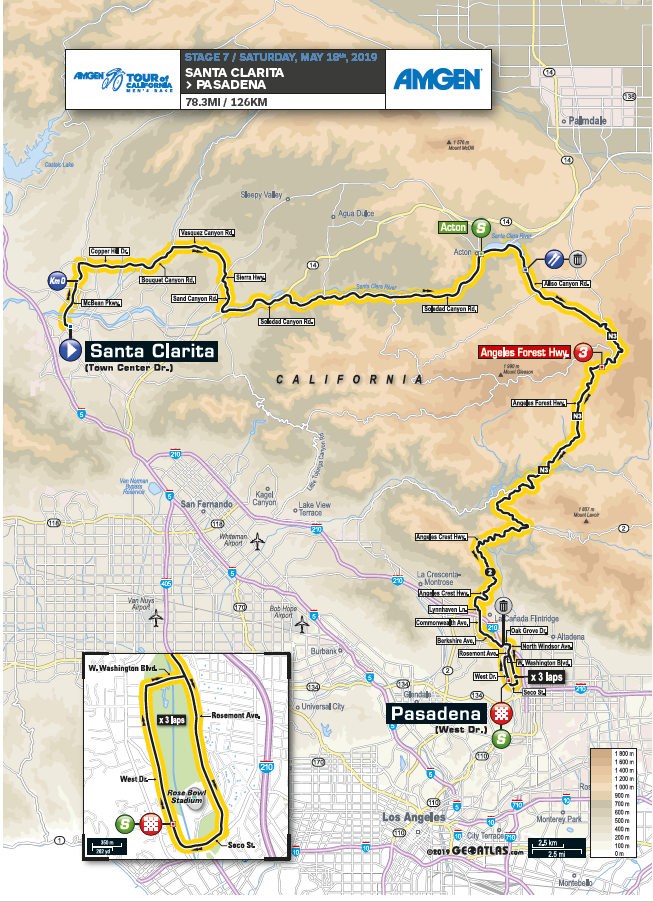 Learn about the road closures and parking tips nearby the Rose Bowl Stadium here.
Learn more about the Amgen Tour of California by visiting their website.
All information is believed to be correct, but is not guaranteed. Please submit any corrections to info@kaleorealestate.com.