After Easter, all those gold foil wrapped chocolate bunnies, marshmallow Peeps, and plastic eggs go on sale. Clearance is first at 25% off, then 50% off, and finally 75% off. Easter decorations and candy lose value right after Easter. They are priced right for an instant, then "out of season".
Houses don't lose value how Easter candy does. In fact, real estate is one of the safest and smartest investments you can make. Whether it is your personal property or an income property that you are renting, real estate is an investment into something that has a utility beyond its price appreciation. You can live in a house. You can't live in your stock portfolio.
Sometimes people wait to list or buy because they are waiting for the exact right time. Have you ever heard the saying: "The best time to plant a tree is 20 years ago. The second best time is today." The same goes for real estate. "The best time to buy a home was 20 years ago. The second best time is today."
March 2019 Real Estate Statistics for California
30-year, fixed-mortgage interest rate averaged 4.27 percent in March 2019

Median Number of Days to sell a single-family home in California was 25 days

Number of active listings has increased 13.4% from last year, March 2018

Median Sales Price in California for March 2019 was $565,880

Average Price Per Square Foot for an existing single-family residence home was $277 in March 2019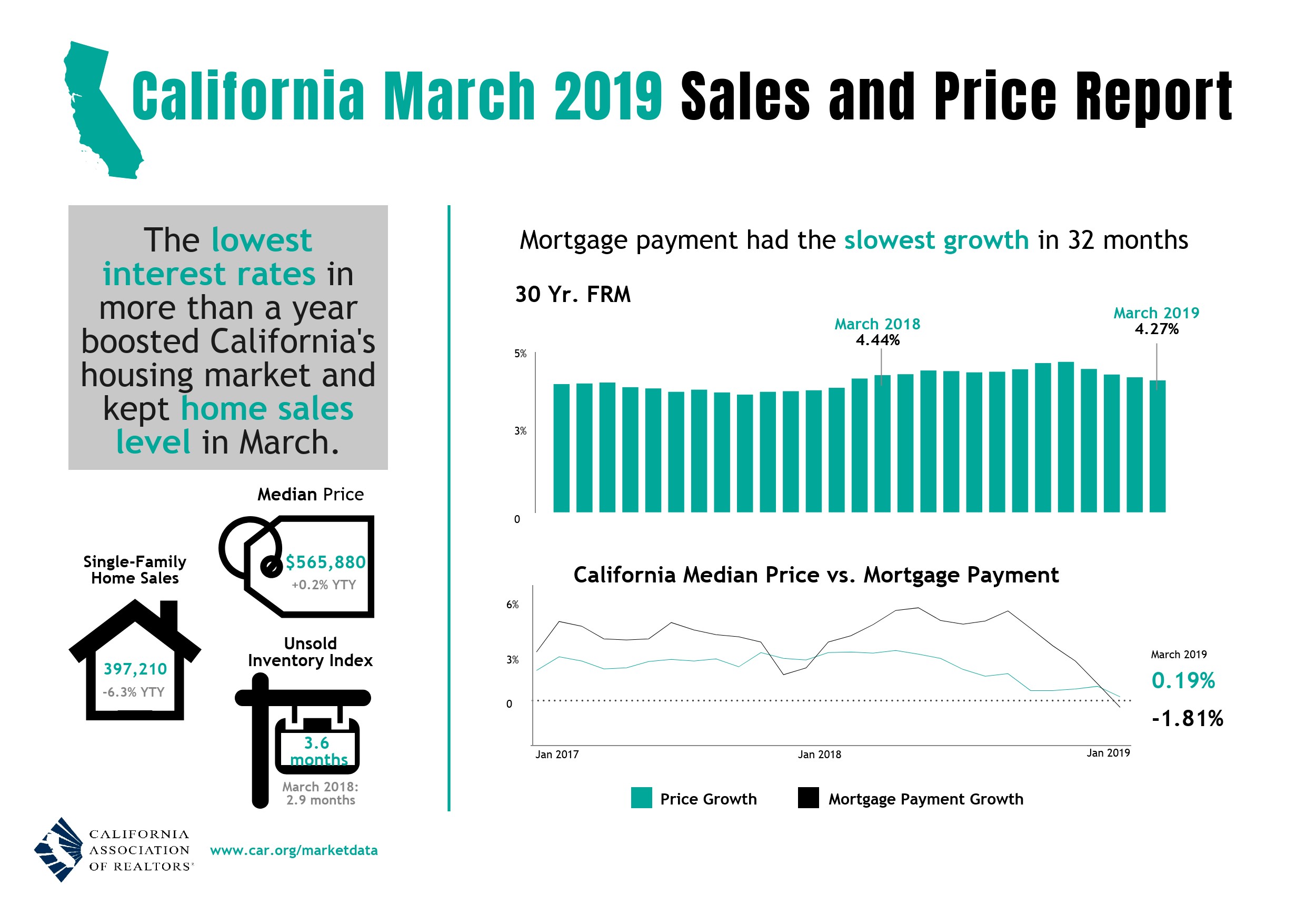 Statement from the California Association of Realtors President
As the President of California Association of Realtors said about the start of 2019:
"The lowest interest rates in more than a year gave would-be buyers the confidence to enter the housing market and provided a much-needed push to jump-start the spring homebuying season. Pending sales also showed healthy improvement in March, which suggests a brighter market outlook could be in place in the second quarter."
You can clear the grocery store shelves and buy clearance Easter chocolate bunnies, but you most likely won't find a 50% off deal for a 3 bedroom, 2 bathroom home in Glendora or Claremont.
"Are you saying I won't be able to find a deal? I don't want to overpay on a house!" might be your next response.
Having an agent who knows the local market is crucial in your home buying search. I will present the statistics, market trends, and recent sales so that you can compare the house you are considering with ones that have sold. You might not find a house for 50% off, but using me as an agent means you have an expert who is negotiating and working on your behalf to accomplish your goals. I represent buyers and sellers and both have unique priorities. This might mean coordinating a quick sale or close of escrow, having a few extra days to move out, or submitting your request for repairs to the seller's agent.

4 Ways a Real Estate Agent is Better than an App

An app can't replace the one-on-one, face-to-face communication that our real estate agents provide their clients. In this age of constant notifications and ever present technology, it feels like everyone wants to connect online and not offline.
What are 4 ways that a real estate agent is better than an app?
1 – You can meet a real estate agent in person and sit down at a table
2 – A real estate agent does the negotiations and contracts in a way that an app or even artificial intelligence (AI) can't
3 – A real estate agent picks up their phone and talks with you about your concerns or questions
4 – A real estate agent can walk through a house and smell, touch, and feel the inside of a home
Meet with a KALEO real estate agent and experience the difference. Contact us today by filling out a form or call (626)609-2130 to schedule your private client consultation.