"Everybody can be great. Because anybody can serve. You don't have to have a college degree to serve. You don't have to make your subject and your verb agree to serve. You don't have to know the second theory of thermodynamics in physics to serve. You only need a heart full of grace. A soul generated by love."
Martin Luther King, Jr.
We are real estate agents. We are advocates for home ownership, safe communities, and giving back. How are agents at KALEO Real Estate Company giving back to their communities? Here are a few spotlights on agents and the organizations that they serve. We are proud to say that our real estate agents are investing time and energy into programs that help people!
Melissa Perez (DRE#01803254), fourth from left.
Spotlight on Melissa Perez and Project Boon
Melissa Perez is on the Board of Directors for Project Boon, a 503(c) nonprofit organization in Rancho Cucamonga. Project Boon organizes backpack drives, Thanksgiving dinners in San Bernardino County, meals, flu shots, and clothing during Christmas, and more.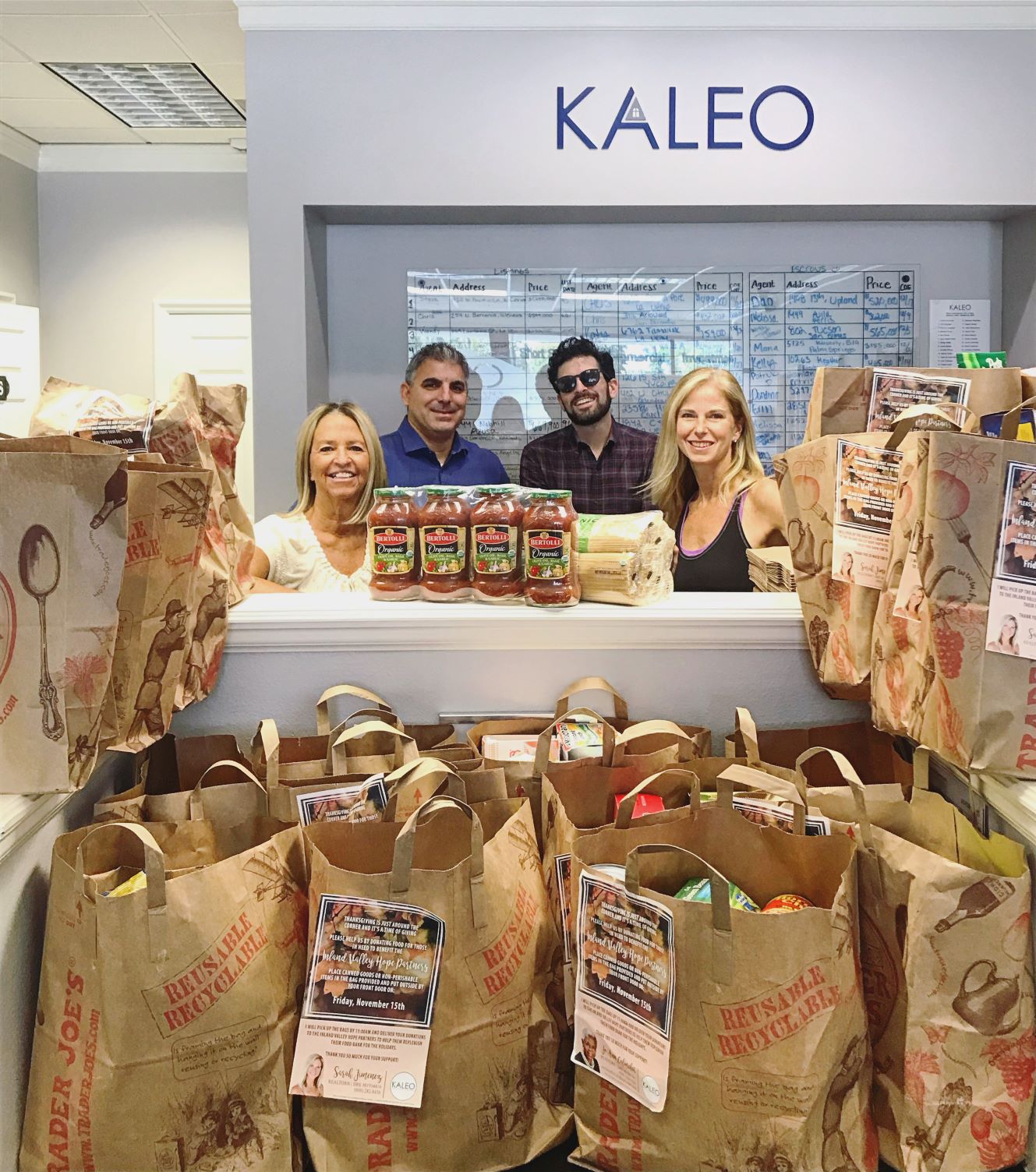 KALEO real estate agents Kelly Harris (DRE#01352621), Dan Colasanti (DRE#02014965), Jon Tomashefsky (DRE#02014965), and Sarah Jimenez (DRE#01934416) (from left to right).
Spotlight on Sarah Jimenez and Inland Valley Hope Parters
Sarah Jimenez organizes food drives during Thanksgiving to donate to the Inland Valley Hope Partners (IVHP). IVHP helps low and no income residents in San Bernardino and Los Angeles county through food banks, housing, and healthy living programs.
During the annual Thanksgiving food drive, Sarah Jimenez organizes a neighborhood canned good collection and drops off truck loads of food at Inland Valley Hope Partners.

Erin Osborne (DRE#01948425) at the Spring Pet Fair for Friends of Upland Animal Shelter.
Spotlight on Erin Osborne and Operation Blankets of Love
Erin Osborne collects blankets, collars, pet food, towels, leashes, and other pet supplies to bring aid and comfort to homeless animals in shelters and rescues throughout Southern California. Erin Osborne is the Inland Valley Team Captain for Operations Blankets of love and collects blankets and supplies for the Friends of Upland Animal Shelter, Devore Animal Shelter, San Bernardino Animal Shelter, Rancho Cucamonga Animal Shelter, and Inland Valley Humane society.
Operation Blankets of Love (OBOL) is a nonprofit that, "We believe that no animal should be abused, neglected or abandoned, spending its existence in fear, pain and hunger, but instead have the right to live a life filled with love and compassion." (OBOL website. 11-21-2019)
Spotlight on Jo Ann Grant and Pomona Homeless Shelter
A lifelong REALTOR and advocate for community involvement, Jo Ann Calmelat (formerly Grant)(DRE#01047992) has volunteered at Pomona homeless shelters for the past 4 years. She volunteered with Purpose Church by serving breakfast at the Pomona Armory from 2015 to 2018.
As Jo Ann says, "I feel called by God to be of service." She now volunteers at Hope for Home located on Mission Boulevard in Pomona. Pomona's newly opened Hope for Home had its ribbon cutting ceremony on Friday December 6th, 2019 with the respective mayors from Pomona, La Verne, and Claremont all in attendance with other dignitaries. Hope for Home opened partially in October 2018, but is now fully operational and serves as a model for other cities.
Spotlight on Sarah Jimenez and David and Margaret Youth and Family Center
Sarah Wyatt Jimenez organized another donation drive for Valentine's Day. "Love your Neighbor" collected new and gently used clothing for the David and Margaret Youth and Family Services in La Verne.
As their website explains, "David & Margaret empowers children, youth, and families through culturally diverse services that foster emotional, educational, spiritual, and identity development."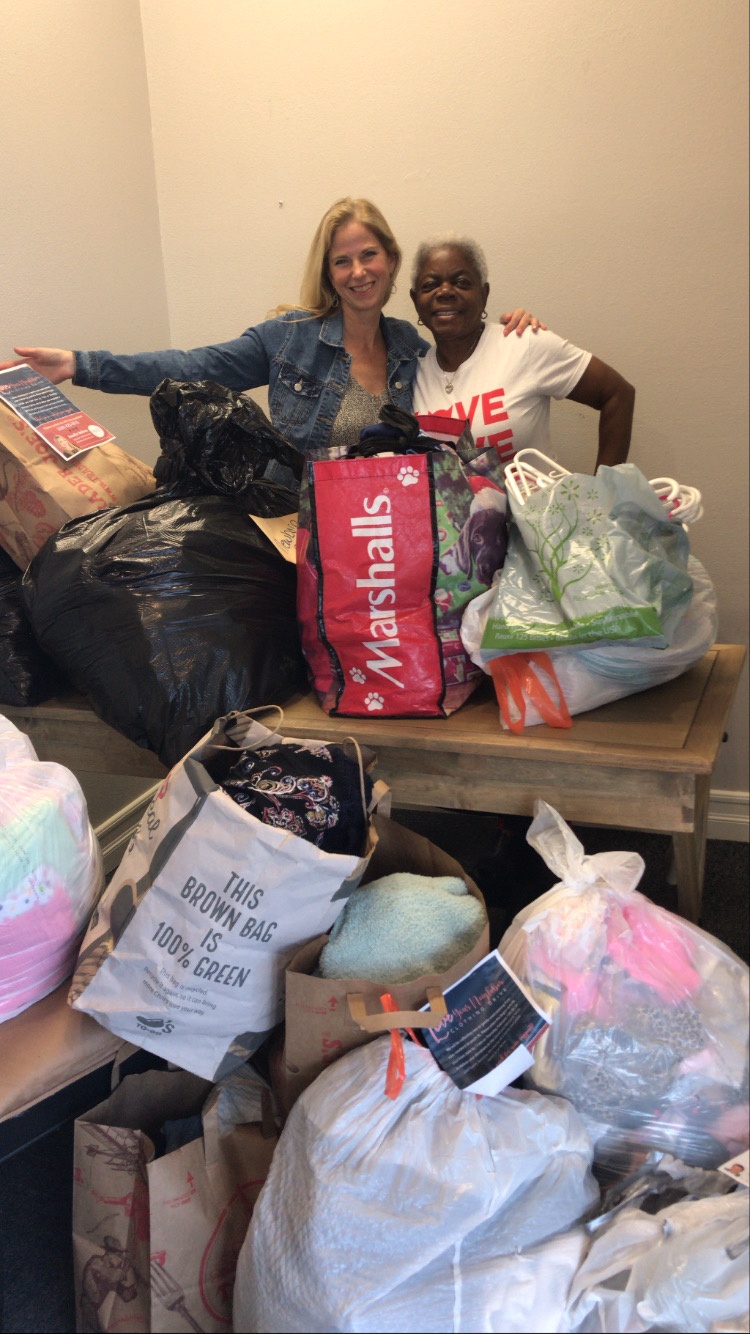 KALEO real estate agents Sarah Jimenez (DRE#01934416) and Jo Ann Calmelat (DRE#01047992)(from left to right).
Chamber of Commerce Membership

We are members of the Glendora and La Verne Chamber of Commerce. We have real estate agents involved in the Pomona Chamber of Commerce, Azusa Chamber of Commerce, and San Dimas Chamber of Commerce.
Are you a KALEO real estate agent who is volunteering with an organization that is not listed? Email us here!