California Forgivable Down Payment Loan Program: "Forgivable Equity Builder Loan "
Here is good news for Home Buyers: the fast pace of the housing market went from 90 MPH to 70 MPH. We are still going fast, but you have a better shot at finding the house of your dreams.
California released a new forgivable down payment program.
"The Forgivable Equity Builder Loan gives first-time homebuyers a head start on this with immediate equity in their homes via a loan of up to 10% of the purchase price of the home. The loan is forgivable if the borrower continuously occupies the home as their primary residence for five years. The Forgivable Equity Builder Loan is a forgivable subordinate loan program that may only be used with a CalHFA first mortgage." (California Housing Finance Agency website).
Home prices are high and it can feel impossible to buy a home. This loan comes with a 0 percent interest rate and if the borrower stays in the home for more than 5 years, then they do not have to repay the junior loan. The CalHFA program is for first time home buyers in California purchasing a home to live in.
If you are curious about whether you or someone you know could be eligible, fill out this contact form.
We can connect you with a loan officer and give you action steps towards buying a home. If you are considering selling, then call me today so I can give you an accurate range of what your home might sell for!
There are income requirements that you must meet depending on what County you are purchasing the home in.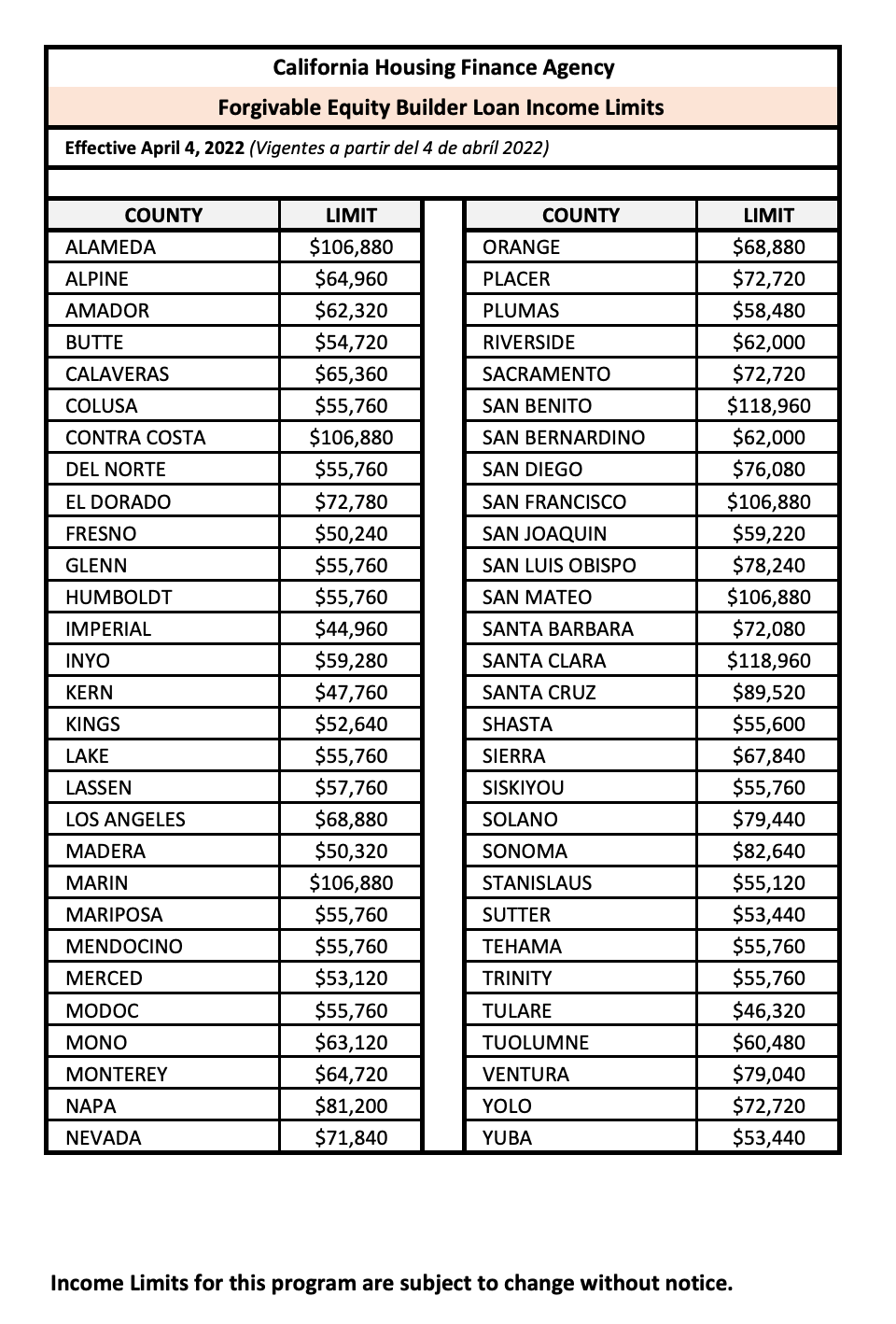 More information here:
https://www.calhfa.ca.gov/homebuyer/programs/forgivable.htm
https://ktla.com/news/california/new-california-program-lets-1st-time-homebuyers-borrow-down-payment-at-0-interest/
Free First Time Home Buyer Consultation
California released a new program called the Forgivable Equity Builder loan. For more information about buying a home or whether you quality for this loan program, simply fill out the contact form below and one of our real estate agents will be in touch with you.
Thank you for the email, we'll get back to you shortly